Watch Video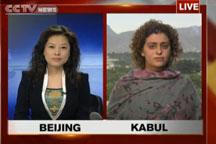 Play Video
For more on the suicide bomb blast in Kabul, we're joined by our correspondent, Tamara Aqrabawe, who's in the Afghan capital.
Q1.
Hi Tamara,thanks for joining us. What can you tell us about the blast? What's the latest information you can give us?
Q2.
We know the attack targeted a convoy of NATO-led troops. How is the blast linked to the operations against the Taliban? And will this tighten the security situation in the area?
Editor:Zheng Limin |Source: CCTV.com