Watch Video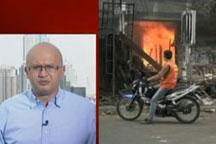 Play Video
And Tony Cheng can join us now by phone, to give us more insight into the situation in Bangkok.
Q1: Hello Tony-- Red-shirt protesters agreed to talks brokered by lawmakers to end the crisis that threatened to tear the country apart. What does the local media think of the prospect of the brokered deal? How is the government responding to the talks?
Q2: Authorities warned protesters to leave their barricaded encampment by Monday afternoon. Did you see red-shirt protesters retreat?
Q3: One government spokesman says the situation inside the encampment has improved. Does it mean some people inside the government are not keen on cracking down on those protesters?
Editor:Zheng Limin |Source: CCTV.com