Watch Video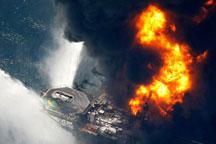 Play Video
A US Congressional hearing on response efforts to the Gulf Coast oil spill has been held in Washington. BP America Chairman and President Lamar McKay testified on Capitol Hill. Just one day after BP announced progress in controlling the spill, scientists are expressing worry about its effects.
BP boss Lamar McKay faced a grilling in the Senate, for not having a plan to deal with this kind of explosion and spill.
Lamar Mckay, Chairman & President of BP America, said, "There is a deep and steadfast resolve to do everything we humanly can to stop this. To stop the leak, to contain the spill, to fight it offshore, to fight it at the shoreline, to clean it up, and to deal with the economic impacts that it has caused and will cause."
Fishermen say they are glad to hear BP is making some progress in containing the leak, but they're not overly optimistic.
James Peters, Charter Fisherman, said, "Definitely still a long way to go. We were down looking at oil on the beach today and it's definitely very disappointing. Looks real bad."
Large globs of oil were visible on a beach in South Pass, Louisiana on Monday. BP officials say workers successfully inserted a tube into the blown out well, capturing leaking oil and gas and pumping it onto a ship.
A Greenpeace expert says the result of the rig disaster is now clearly visible on the mainland.
Paul Horsman, Greenpeace Oil Spill Expert, said, "Since then -- almost a month ago -- the oil has been hemorrhaging from the ocean floor six miles away. The fact that we have found it here is a very clear indication that it is spreading much further into the environment."
Scientists are increasingly worried that the spilled crude could get caught in a current. That would carry the mess all the way to the Florida Keys and beyond, damaging coral reefs and killing wildlife.
Editor:Zheng Limin |Source: CCTV.com