Watch Video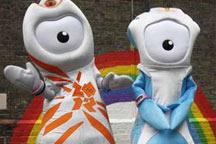 Play Video
The 2012 Olympic and Paralympic Mascots have been unveiled in London. On Wednesday, the public got a first hand look at the one-eyed, interactive creations from the digital age.
Named Wenlock and Mandeville, the pair owe their titles to 2 small towns in England.
The mascots are based on a story, where a welder used the last drops of steel from the final girder added to the new Olympic Stadium, to create the Olympic duo.
Their single eye represents a camera lens, which will help them see the world, and respond to it. At first glance, the mascots seem to have little in common with London or a British identity, but the small yellow lights on their heads are said to represent London's iconic black taxis.
LOCOG Chairman, Sebastian Coe, says the mascots will play an important role in inspiring children and getting them involved in Olympic sports.