Watch Video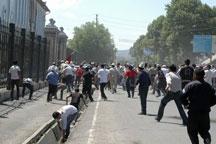 Play Video
Kyrgyzstan's interim government, has declared a state of emergency in the troubled southern city of Jalalabad. The move comes on the heels of fresh clashes on Wednesday. Ethnic violence has left two people dead and dozens more injured.
A new cycle of violence erupted in this central Asian nation.
Thousands of ethnic Kyrgyz stormed a Uzbek-funded university.
They demanded the arrest of a local Uzbek leader who allegedly called for the creation of an autonomous Uzbek district in Kyrgyzstan.
Security forces shot into the air in a bid to prevent Kyrgyz from pelting the university with stones.
The clashes prompted thousands of ethnic Uzbeks to come out to defend their university.
In Bishkek, the interim government held an emergency meeting to discuss the unrest.
Omurbek Tekenbayev, Deputy Head of Kyrgyzstan Interim Government, said, "First of all they try to confront the interim government, but when they feel the people support the government, they suffer a setback and now they use inter-ethnic conflicts."
The leader of the interim government played down the unrest's significance.
Roza Otunbayeva, Leader of Kyrgyzstan Interim Government, said, "We can prevent scuffles and any other clashes. We ask people to stay calm, here and there, and we have shown that we have this capability."
The Central Asian country plunged into unrest when a revolt in early April ousted President Kurmanbek Bakiyev.
The interim government has accused Bakiyev's supporters of attempting a coup. Jalalabad, located in the south of the country, is the power base of the ousted president.
Since Bakiyev was toppled, ensuing violence has claimed around 100 lives and left more than 1,500 injured.
Related stories
Editor:Zhang Pengfei |Source: CCTV.com