Watch Video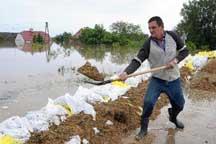 Play Video
At least 5 people have been killed after heavy rains battered central Europe last weekend. The downpours also caused flooding in areas of Hungary, Slovakia and the Czech Republic.
Polish authorities called for help from European neighbors on Wednesday, as severe flooding continued to cause destruction across large parts of the country.
The flooding has burst river banks and inundated low-lying homes and roads, cutting off many villages.
Thousands of people have been evacuated from their homes, and electricity has been knocked out in some areas.
Railway travel was also paralyzed, rendering some areas inaccessible.
European Union officials said Poland had activated the EU Civil Protection Mechanism, asking for high-capacity pumps to help clear the flood waters.
Kristalina Georgieva, EU Commissioner of Humanitarian Aid and Crisis Response, said, "We are also mobilizing a Baltic module, this is 3 Baltic countries coming together to deploy their capacity, and this module actually will be deployed for the first time now in Poland. Assistance is already on the way, we just got the confirmation from Poland that their assessed needs are going to be met by member countries."
France and Germany also offered to provide pumps, which will be deployed to the worst affected areas in the country's south.
Pumps will also be sent north, as more damage is expected in the coming days.