Watch Video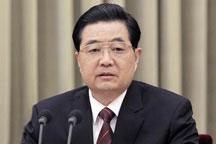 Play Video
A central work conference on Xinjiang's development has been held in Beijing. The meeting was organized by the Central Committee of the Communist Party of China and the state council. President Hu Jintao along with other Chinese senior leaders attended the two-day meeting which ended on Wednesday.
This is a top-level meeting which has unveiled a string of polices to boost development of the Xinjiang Uygur Autonomous Region.
In his address to the conference, President Hu Jintao stressed the importance of helping Xinjiang's overall development in the current situation.
He said it's crucial to the improvement of Xinjiang residents' quality of life, and more importantly, the maintenance of the nation's unity and stability.
The president called for aid to help Xinjiang's economic growth.
He said that Xinjiang's GDP should reach the country's average within five years.
Hu Jintao said Xinjiang's main social contradition is similar to other cities.
That is the gap between the ever-growing material and cultural needs of the people and the low level of social production.
Taking these into consideration, the president pointed out the directions to guide work in Xinjiang.
Hu emphasized the significance of sticking to the Communist Party's leadership, the system of socialism and the autonomous system in the ethnic region.
He urged the promotion of scientific development and further reforms and opening-up, the improvement of people's quality of life and the strengthening of unity between different ethnic groups, as well as maintaining social stability.
Hu said that aim of future work in Xinjing is to narrow the gap between Xinjiang and other inland regions as much as possible over ten years and guarantee that Xinjiang can fulfill the goal of achieving a "moderately prosperous society in all aspects" by 2020.
Hu emphasized the ultimate purpose of the work is to raise people's living conditions in the region.
Premier Wen Jiabao also delivered a speech, saying the Central government had decided to take a lead in conducting a resources tax reform in Xinjiang.
He also said the government will encourage commercial banks and foreign-owned banks to set up branches in Xinjiang, and broaden the policy of natural resource use in the region.
Premier Wen stressed that besides the support from the central government and other provinces, Xinjiang also needs to strengthen its own development capability.
Related stories
Editor:Zhang Ning |Source: CCTV.com