Watch Video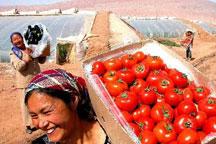 Play Video
The central government is providing major financial support to improve the standard of living in the Xinjiang Uighur autonomous region. The money is largely used to improve the conditions in which people live.
Improvements to housing in the old city in Kashgar are in full swing.
A Kashgar local resident said, "The government-built houses are very strong, we are satisfied."
Another area local government is focusing on is employment. In the process of renovating the old city, small industries are retained. That means those who work in this area can continue to do business in the same neighborhood. Relocating a blacksmith bazaar is an example.
Official of Old House Renovation Office, Kashgar, said, "At the beginning we considered building a square here, but when we learned it may affect the livelihood of 21 households, we changed the original plan. "
These craftsmen now work in new shops built by the local government.
A blacksmith of Old City, Kashgar, said, "We appreciate that the government is creating such good conditions for us. I believe our conditions will become better."
So far, more than eight-thousand families have benefited from this housing improvement project. By 2013, the project will improve the living conditions of 220-thousand people.
Another project is helping herdsmen in Xinjiang to live better. Here in a community of herders in Tacheng city, people have left their nomadic life behind. They raise stock and plant clover. Natural disaster is no longer a big threat.
Resident of Former Nomadic Herder Settlement, said, "As we settled down, we are no longer afraid of many disasters. Take last year as an example, my family was not affected by the snow storms or floods."
So far, more than 1,200 nomadic herdsmen have settled in communities in Xinjiang. Regional officials say government investment on livelihood projects is increasing by 20 percent every year and more financial support will come to improve people's life.
Editor:Zhang Ning |Source: CCTV.com