Watch Video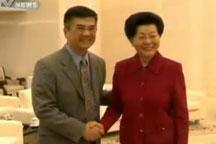 Play Video
Vice Commerce Minister Ma Xiuhong has met with US Commerce Secretary Gary Locke in Beijing, ahead of a high-level strategic dialogue next week.
Locke is currently in China leading 24 US companies on a clean energy trade mission, to help meet President Barack Obama's goal of doubling overall US exports within five years.
During the meeting with Locke, Vice Commerce Minister Ma Xiuhong said the US should lift export restrictions to allow the better development of renewable energy and other projects.
Vice Commerce Minister Ma Xiuhong said, "The US should take real action to further loosen restrictions on exports to China. Otherwise, because of the huge cost of developing high-tech clean energy projects and the fact that such projects need continuous investment, it can't be a one-off."
Ma also urged the US to avoid trade protectionism, which China says has increased since the onset of the global financial crisis.
Ma Xiuhong said, "We are strongly opposed to all kinds of trade protectionism. The Chinese Commerce Ministry and other departments have made representations to the US government many times."
The meeting came hours after a senior Chinese official said pressure would not lead to a revaluation of Renminbi, the Chinese currency.
Chinese Vice Finance Minister Zhu Guanghui said, "What I need to particularly emphasize is that we will not re-value yuan because of external pressure and noise. External pressure can do nothing but slow down the reform process."
Locke's China tour comes ahead of the second round of the Sino-US Strategic and Economic Dialogue, which is to be held in Beijing next week.
High on the agenda will be the huge trade imbalance between the world's first and third largest economies.
Editor:Zhang Ning |Source: CCTV.com