Watch Video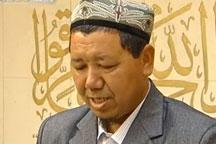 Play Video
China's best Quran reciters have finished their competition in Beijing. In the four day contest, participants from different regions and ethnic groups showcased their skill and style. But as our reporter Wang Mangmang finds out, the believers have a much bigger mission in mind.
In search of divine truth. The belief of a lifetime. Reciting the Quran, believers find purity in their hearts.
Many of them are Imams who have been practicing their reading for decades. And they're still learning, striving to improve.
First Prize winner Abulitipu Sayimu said, "I'm fully devoted to the text when I recite it. I believe truth lies in God's revelation. And I will spare no effort to continue my pursuit."
The judging criteria includes precision, rhythm, voice, and projection. Although styles may differ, the readings are in Arabic and are supposed to be understood by Islamic communities throughout the world.
Ma Fengxiao, Second Prize winner, said, "I will discuss the recitation technique with my colleagues in the future to promote the development of this art in our country. We are relatively weak compared to Muslim countries."
Held every two years since 1995, the contest has welcomed outstanding reciters from around the country. And many of them are sent to international competitions.
Chen Guangyuan, president of Chinese Islamic Association, said, "We like to use this opportunity to promote the Islamic culture and its fundamental doctrines. It is important for our religious practices in China and the world."
Through events like this, it's hoped the overall level of Quran recitation will improve in the country.
The competition is one way believers share their devotion to god. Committing to memory passages of the 1400 year old Quran, the participants, old and young, take on a mission to keep their faith alive, both for themselves and as an inspiration to others.
Editor:Zhang Ning |Source: CCTV.com