Watch Video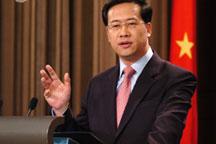 Play Video
China has reiterated the stance on the Cheonan incident. It has called on both parties concerned to remain cool-headed and deal with the matter in an objective way.
A Foreign Ministry spokesman says the Chinese government has great concern for the feelings of South Korean people over the loss of their ship. He urged relevant parties to remain calm in tackling the crisis.
Chinese FM spokesman Ma Zhaoxu said, "We maintain that all parties concerned should remain cool-headed and self-restrained and deal with the matter in a proper way to avoid an escalation of the situation. I want to emphasize that the Chinese side has always looked at and dealt with international and regional affairs based on facts and truth. "
The spokesman also notes that the Chinese side has always been committed to safeguarding regional peace and stability and promoting the process of the six-party talks and the denuclearization of the Korean Peninsula.
Editor:Zhang Ning |Source: CCTV.com