Watch Video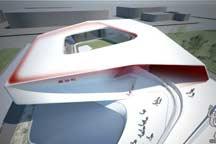 Play Video
Now let's turn our attention to the World Expo Park in Shanghai. Friday is the National Pavilion Day for Austria.
The Austria Pavilion showcases itself with dynamic-abstract architecture featuring a porcelain red and white outer skin. Porcelain is also found in the hall's interior design. The surface elegantly alludes to the century-long tradition of "Chinaware," which was once exported to Europe.
In a symbolic way, Austria transports this architectural object the other way with its pavilion, adding a tangible expression to the friendship between Austria and China.
Austrian Prime Minister Werner Faymann addresses a ceremony celebrating the National
Pavilion Day for Austria, in the World Expo park in Shanghai, east China, May 21,
2010. (Xinhua/Liu Ying)