Watch Video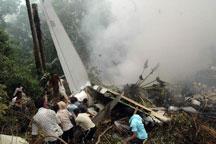 Play Video
So far 146 bodies of 158 victims of the Saturday's plane crash in southern India have been found. Eight survivors are being treated in hospital.
The plane captain was among the victims. The Indian government has declared a two-day national mourning period. This is the worst air disaster in 14 years.
The Mangalore airport was re-opened later Saturday and at least three planes took off from the same runway where the crash happened.
Speculation is on the rise that the pilot of the doomed Air India passenger plane could have made a mis-calculation of the runway, as one of the plane's wheels failed to touch the runway.
One of the wings of the plane then hit a cliff near the runway and burst into a ball of fire, before plunging into a nearby gorge. Only 8 people survived.
However, Indian Secretary of Civil Aviation Madhavan Nambiar said earlier Saturday it is too early to speculate on the cause of the crash in the southern city of Mangalore.
He says the black box of the doomed plane has yet to be found, contrary to an early report by local TV Times Now that it was found already.
The official refused to speculate on any possible cause of the crash, saying that the airfield and runway have seen 32,000 landings since its opening in 2006, and the plane's Serbian pilot had more than 12,000 flight hours.
Local media said that most likely the cause of the crash is pilot's error, including his misjudgment of the runway's length, as the plane went out of control after touching the ground.
A survivor recalled that the plane spun out of control after a loud thud was heard on the left side of the plane, presumably that of the tyre exploding.
On Saturday, Pakistani Prime Minister Yusuf Raza Gilani sent a message of condolence to Indian Prime Minister Manmohan Singh over the crash.
Russian President Dmitry Medvedev also expressed condolences to India during this tragedy.