Watch Video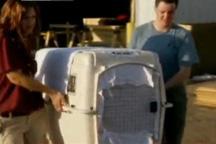 Play Video
After rescuing and cleaning Coast birds, threatened by the Louisiana oil spill, U.S. wildlife officials on Sunday, moved Sseven of the birds away from the oily coast.
So far, bird specialists have rescued about 30 oil-slicked animals...and cleaned them up, at the International Bird Rescue Research Center, in Louisiana.
The institution, keeps the birds under observation for 5 to 10 days, before releasing them.
Officials of the center loaded the 2 laughing gulls, 3 brown pelicans and 2 northern gannets into crates, before taking them to their new home at a wildlife refuge in Tampa Bay, Florida.
Editor:Zhang Pengfei |Source: CCTV.com