Watch Video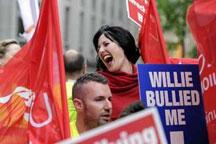 Play Video
British Airways cabin crew are bound for a five-day strike this week after the airline and union leaders failed to resume talks on Sunday. The two sides blame each other for the breakdown in communication.
Without a last ditch attempt for a deal, the first of three FIVE-day protests planned in response to BA's cost-cutting will go ahead Monday.
Negotiations, to avoid the strike broke down on Saturday evening, after protesters gate-crashed the talks.
BA and Unite chiefs, had hoped to resume talks Sunday but none were arranged and both sides took to the air-waves to argue their points instead.
Related stories