Watch Video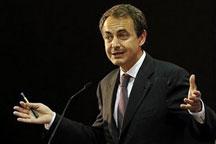 Play Video
Spain says it will not revise a 15-billion-euro austerity plan amid union pressure. Prime Minister Jose Luis Rodriquez Zapatero said this on Sunday.
With the Greek debt crisis shaking world markets, Zapatero is under pressure to make spending cuts. At the same time, he's pushing through, long-awaited labor reforms to avoid a similar loss of confidence in Spain.
He says, cuts approved by the cabinet on Thursday would reduce social spending by 1.5 percent. Zapatero, reiterated that the government MAY ask wealthier Spaniards to make a bigger contribution in an effort to reduce the budget deficit.
Last year, it was 11.2 percent of gross domestic product. Earlier on Sunday, Spain's largest union threatened a general strike over unfair and unnecessary cuts.
Editor:Zhang Pengfei |Source: CCTV.com