Watch Video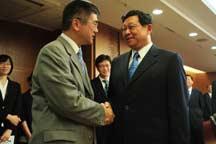 Play Video
Ahead of the S&ED, China's commerce minister Chen Deming has met his US counterpart Gary Locke. He's leading the first cabinet-level trade mission, of the Obama administration in China. The two sides hope they can explore new fields to further boost bilateral, economic and trade relations.
Although opinions are divided on open markets and trading barriers, the United States and China are seeking a win-win relationship in the clean energy sector.
China's Commerce Minister Chen Deming hails Locke's visit to China as important for bilateral economic relations.
Chinese Commerce Minister Chen Deming said, "I hope the trade mission you are leading to China will mark a new starting point for China-US economic and trade cooperation, and make a big success."
The visiting US secretary of Commerce says China offers stunning opportunities for U.S. clean energy companies.
Gary Locke will join other top US officials tomorrow to attend the annual Strategic and Economic Dialogue in Beijing, to further strengthen bilateral cooperation.
Editor:Zhang Ning |Source: CCTV.com