Watch Video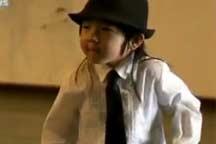 Play Video
It's been almost a year since the death of Michael Jackson, can you believe it? but his legacy lives on. In China, a young boy is moonwalking in the footsteps of the King of Pop with his own dance moves.
Xiao Bao is only four years old, but he has already taken the world by storm by performing on US television's "The Ellen Show" and at the Shanghai World Expo.
He began dancing at just two years old, but says he was inspired by music before he saw the light of day.
Xiao Bao said, "Before I was even born, I would listen to music and dance in my mother's womb."
Xiao Bao was born prematurely. Doctors suggested moving his limbs to music to help build his weak muscles.
His parents were amazed at his moves and rhythm.
Xiao Bao's mother said, "When he was a toddler, we played music to him and he started moving like this. But we did not think that he had such a strong passion for music. When he was just a couple of months old, we would let him listen to music and he would immediately stop crying and calm down."
Xiao Bao never fails to please crowds with his spontaneous dance routine. Most audiences are in awe of the young performer's tailor-made suits and body-popping moves.
A Beijing resident said, "Watching a little child dance so well is very strange. It seems these days parents are putting more and more effort into nurturing kids like him."
Xiao Bao's parents say they are happy about the attention their son has received. They insist his happiness and schooling are the top priorities.
As for the budding superstar, Xiao Bao says he is serious about his dancing career and hopes to follow in the footsteps of his famed idol.
Editor:Zhang Ning |Source: CCTV.com