Watch Video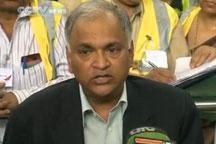 Play Video
Air India announced details of the compensation it plans to give families of Mangalore's plane crash.
Accident investigators in India, are trying to find out WHAT caused the Air India Express, to overshoot a runway and crash as it landed. It killed 158 people. The black box was retrieved and more evidence has emerged.
The Press Trust of India's news agency reported that the black boxes were recovered by investigators sifting through twisted wreckage of the plane.
On Sunday, a four-member US forensic team also arrived in India to help in the investigation.
An official from Air India also claimed the pilots were not at fault in the accident.
Arvind Jadhav, Air India Chairman and Managing Director, said, "Both the pilots were well rested before undertaking the flight. In fact the rest period given was considerably higher then the regulatory environment."
He says interim compensation is about twenty thousand US dollars for the families of the dead aged above 12 years and half of that for those below 12 years.
Air India requested related organizations to come together to find the cause of the accident including Boeing and the Federal Aviation authority in the USA.
At a Hospital in Mangalore, most of the bodies of the victims were difficult to identify because of heavy burns. Local officials said that a group of Indian experts had been called in to conduct DNA tests to help identifying the bodies.
S A Prabhakarsharana, Deputy Commissioner of Kannur Dirstrct, said, "Even the people who have gathered the relatives who have gathered, they are not able to identify the bodies. So experts have come from Hyderabad to assist the local doctors regarding the taking of samples of these bodies, the 40 dead bodies."
Forensic experts were expected to begin taking DNA samples but warn it could take up to a week before the victims are formally identified.
The crash on Saturday of the Boeing 737-800 killed 158 people. Only eight survived, many of them by jumping from the wreckage just before it burst into flames.
Related stories