Watch Video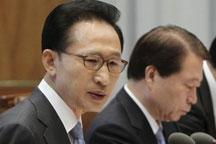 Play Video
South Korean President Lee Myung-bak is scheduled to deliver a public speech Monday. He'll speak on his country's countermeasures in response to the sinking Cheonan warship.
South Korea's Senior secretary, for public affairs at the Presidential residence, Cheong Wa Dae, says the president will present South Korea's position on the incident and follow-up measures.
He'll make it clear that the incident can be seen as an "obvious military provocation", and Seoul will take "resolute countermeasures".
South Korea, on Thursday announced the outcome of investigations over the Cheonan incident, by a multinational team.
It said, the warship that went down, near a tense maritime border with the DPRK, was torpedoed by the country. The DPRK, immediately rejected the claim, saying it will dispatch inspectors to South Korea to investigate.
Related stories
Editor:Zhang Pengfei |Source: CCTV.com