Watch Video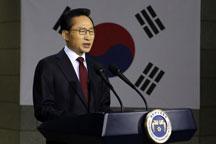 Play Video
Responding to the recent sinking of its "Cheonan" warship, allegedly by a DPRK torpedo attack, South Korean President Lee Myung-bak says his country will no longer tolerate what he calls its northern neighbor's "brutality."
In a solemn address from the nation's War Memorial, South Korean President Lee Myung-bak said Seoul will take Pyongyang to the UN Security Council, suspend exchanges, and ban DPRK ships from passing through its waters.
Lee Myung-bak, South Korean President, said, "From now on, South Korea will not tolerate any provocative acts by the DPRK, and will maintain the principle of proactive deterrence. If our waters, airspace, or territory are violated, we will immediately exercise our right of self-defense."
Lee added that the DPRK must be punished for its repeated provocations. He then demanded an immediate apology for the sinking of his country's naval ship.
Lee Myung-bak, South Korean President, said, "I solemnly urge the DPRK authorities to do the following: apologize immediately to South Korea and the international community. Immediately punish those who are responsible for, and those who were involved in, this incident."
Meanwhile, Seoul also plans to hold anti-submarine drills with the US off the west coast of the Korean Peninsula.
Military exercises will be held, as well, with the aim of deterring the proliferation of weapons of mass destruction by Pyongyang.
Japan's Chief Cabinet Secretary, Hirofumi Hirano, said later on Monday that his nation backs South Korea's decision to take the DPRK to the UN Security Council.
Related stories