Watch Video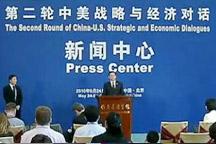 Play Video
Now for more insight and analysis focusing on the important gathering, we are now joined by our current affair commentator, Professor Zha Daojiong.
Q1: Welcome Professor. The dialogue covers a wide range of issues. But the trade between China and US remains one of the key topics. We noticed that US has slapped restrictions on products being exported to China. Chinese vice premier Wang Qishan also presses the US to lift export control. What's your interpretation about the series of moves?
Q2: More and more Chinese enterprises have sought investment opportunities in foreign countries and US is a major destination. In your view, what will this trend bring to China and US?
Q3: Clean energy is a promising area for international cooperation. It is also a field China and US attach great importance to. Why cooperation in this area so important?
Related stories
Editor:Yang Jie |Source: CCTV.com