Watch Video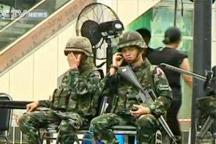 Play Video
Bangkok's office workers streamed back into the downtown on Monday as the city reopened for business. Central Bangkok remained deserted for days after Thailand's worst riots in modern history.
Cars filled the streets, moving freely through the city as almost all traces of the protest barricades had been cleaned away.
At least 54 people were killed and more than four hundred injured in the violence which began on May 14th.
But local residents remain worried about their safety.
Vit Chaikittikorn, Bangkok Resident, said, "I don't think it will become normal yet because everyone is still worried. They are afraid of terrorists. What I have seen, is not normal. People do not dare to come out because they are afraid of bombs or another attack."
As people returned to work, some believed it would take time for things to get back to normal.
Kanyawan Phetklang, Bangkok Resident, said, "I think it will be better, but it will take time. It will take a little bit of time to build the economy up to normal again after everything was damaged in such a sudden event like this."
Thailand's stock exchange and other financial markets were back in business on Monday, after being closed on Thursday and Friday.
Government offices and schools are also scheduled to reopen. A curfew in the city and 23 provinces was extended on Sunday for two more nights.
Thailand's Deputy Prime Minister has given no indication when the curfew would end saying the government needed to monitor the situation.
Troops were mostly withdrawn from Bangkok and remaining checkpoints have been handed over to the police.
Related stories
Editor:Yang Jie |Source: CCTV.com