Watch Video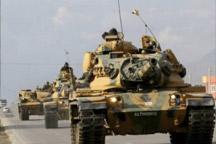 Play Video
The security situation in Iraq is still precarious especially when observers of the Iraqi interior affairs believe continuing security deterioration is related to political conflict. American commanders think Al-Qaeda is still capable of conducting low profile attacks in the country. Baqi Naqed Naji tells us more.
Despite the importance of the political crisis that occurred since the final results of the parliamentary elections were declared, the security dossier is still taking the attention of the different circles at the Iraqi arena, especially when Baghdad and other governorates had recently confronted waves of terrorist attacks that targeted public markets where 100s of civilians were killed and injured. No one can ignore the fact that Al-Qaeda organization and other armed groups are still capable of conducting high profile attacks on public places and government offices, those operations are causing tremendous devastation in the appearance of the cities and the infrastructures as well. Nevertheless, American commanders of the Multi-National Forces think that violence is dropped down by 40 percent comparing to last January of the current year and Al-Qaeda is no longer able of executing high profile bombing.
Brig. Gen. Ralph Baker, United States Division Center in Iraq, said, "I spite of the success the Iraqi Security Forces had have against Al-Qaeda particularly since January this year, Al-Qaeda can still coordinate what we consider low level ineffective attacks in Baghdad and cross the country."
The impact of any security deterioration leaves psychological effect inside the souls of the citizens, and that is represented in fears and paranoia of going out, because no one knows which car will go off or which garbage bin will be detonated.
Meanwhile, observers of the Iraqi interior affairs think: despite Al-Qaeda organization is still strong inside the country, but the security deterioration is not only linked to Al-Qaeda, because it is also related to certain political agendas that are working to destabilize the situation in Iraq for their interests.
Kawther Al-Zubaidi, Journalist, said, "I think Al-Qaeda is getting moved by exterior arms which could be provincial or international links, where those agendas are linked to political groups that are active in the Iraqi arena. I believe the aggravation of the terrorist operations is related to the delay of forming the new government."
It is also believed that the security deterioration is related to certain political conflicts among the factions that are fighting on key posts in the new government which is not formed yet, and this delay in forming the new government is only leading the country into another chaotic situation that is halting the progress of improving several deteriorated sectors such as the services.
Baqi Naqed Naji, CCTV Correspondent, said, "If we consider the delay of forming the new government is one of reasons that are behind the security deterioration, then the Iraqi politicians must sit seriously and tackle all the current troubles among them at least for the sake of the Iraqi people.
Editor:Yang Jie |Source: CCTV.com