Watch Video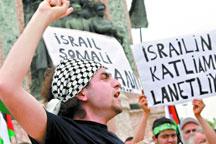 Play Video
Demonstrations have been staged around the world in opposition to Israel's blockade of Gaza. Protesters gathered in Turkey, France and Britain to show solidarity with the Palestinians.
Thousands of Turks marched through the streets of Istanbul to denounce Israel's raid on the aid flotilla led by a Turkish vessel.
Protesters chanted slogans in support of Gaza while waving Palestinian flags.
The crowd also paid tribute to those killed in Monday's raid.
Ayse Kaplan, Protester, said, "I want to condemn Israel for its mentality that allows them to shoot the innocent and defenseless babies."
Anger towards Israel intensified after Israeli commandos stormed the aid ship killing nine activists.
According to a report published in Britain's Guardian newspaper, autopsy results on the slain Turkish activists showed they had been shot a total of 30 times, many at close range.
The public outrage comes as Turkey moves to further cut its ties with Israel.
Meanwhile, demonstrations were also held in Paris and London in the wake of Israel's action against the aid ships.
Thousands of protesters gathered in Paris's Bastille area, with some Jews standing alongside Muslims.
Youssef Ben Derbal, Protester, said, "People here are from all religions, from all ethnic backgrounds. This solidarity condemns their criminal activity. Showing solidarity with the Palestinians in no way means you are a terrorist."
In London, thousands of protesters wearing T-shirts with slogans such as "Free Gaza" converged outside the prime minister's official residence at Downing Street.
One of the protesters was Kevin Ovenden, who was aboard an aid ship raided by Israel's navy on Monday.
Gaza Aid Activist Kevin Ovenden said, "The world's attention is on what's happening and crucially it needs to be on the reason for what's happening, which is the immoral, illegal and inhuman siege on the people of Gaza."
The United States, Israel's main ally, has expressed more sympathy than most for its security concerns. But groups there have stressed the need for Palestinians in Gaza to receive adequate supplies and signaled that the embargo cannot continue in its current form.
Related stories
Editor:Zheng Limin |Source: CCTV.com