Watch Video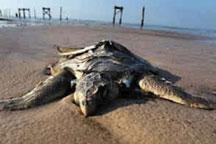 Play Video
Experts warn damage to the gulf's ecosystems and wildlife could be long-term . The ruptured oil well has gushed more than 2 million liters daily for several weeks. Despite positive signs from BP's latest efforts to contain the leak, success remains uncertain.
The spill could be the worst environmental disaster in US history.
Scientists say it could exceed the damage caused by the 1989 Exxon Valdez accident. On that occasion, more than 40 million liters of oil was spilt off the coast of Alaska.
Oil has reached the shores of Alabama, Mississippi and tar balls have washed up in northwest Florida.
Six hundred animal species are now at risk, including more than 400 fish species and 100 kinds of birds.
Oil has already started creeping into marshlands -- habitats for many birds that are important to the area's most commercially valuable fisheries. It is also seeping into roots and killing reeds.
There are also fears the oil could spread with the imminent arrival of the hurricane season. The spilt crude could travel wherever a storm surge takes it -- even New Orleans.
Scientists predict oil could drift upward along the Atlantic coast this summer, posing a threat to dolphins and sea turtles in the region.
Already at least one dolphin and one sea turtle have been found dead in the area.
Experts insist it is too early to assess the full extent of the damage, and how long it could last.
They point out that 21 years after the Exxon spill, two-thirds of the region's wildlife has yet to fully recovered.
However others disagree with that assessment, saying the area affected by the spill recovered more quickly than many had forecast.
Editor:Zheng Limin |Source: CCTV.com