Watch Video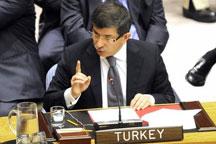 Play Video
Last week's flotilla raid brought Israel and Turkey's diplomatic relations to a standstill.
Turkey called for an international investigation into the attacks at a two-day Conference on Confidence Building Measures it's holding in Asia Meanwhile the Organization of Islamic Conference called on its 57 member countries to reconsider their ties with Israel.
The two day conference in Ankara aims to discuss regional conflict threats.
Israel has decided to send a diplomat from its consulate to the conference, rather than a more senior figure. That's because talks will be dominated by the country's commando raid on a Gaza bound aid flotilla last week.
Turkey, who is leading the international criticism against Israel, is urging the Jewish state to agree to an international investigation into the incident, a call Israel has already rejected.
Ahmet Davutoglu, Turkish Foreign Minister, said, "If Israel agrees to an international investigation committee, our relations will develop in a positive way. If they continue to avoid to fulfill these requirements, normalization of Turkish-Israeli relations will be out of the question."
The Foreign Minister's words have been echoed by his prime minister.
Recep Tayyip Erdogan, Turkish, said, "Israel must pay the price of the blood the Turks shed, it will definitely pay the price. And within the framework of the law, we will pursue this."
Nine Turkish citizens were killed in the raid last week.
Turkey's government responded quickly by threatening to break ties, including military cooperation, unless Israel apologizes for the incident.
Officials warn a 3 billion US dollar trade channel that is central to their once-strong alliance could be disrupted.
The Organization of Islamic Conference also reached an agreement to "punish" Israel for the raid.
Mamouchehr Mottaki, Iranian Foreign Minister, said, "Apart from condemning it, on one hand we hve agreed on punishing Israel. And on the other hand, the least demand from us is that Gaza can get to use its sea, land and aerial borders in order to have relations with others and receive humanitarian aids."
Egypt says it will keep its border with the Palestinian territory open indefinitely.
Egypt and Israel have maintained the blockade since Hamas took control of Gaza in 2007, with Israel describing it as an essential measure to stop weapons from reaching Hamas militants.
However, an Egyptian official says the blockade has failed to achieve its goals.
Editor:Zhang Pengfei |Source: CCTV.com