Watch Video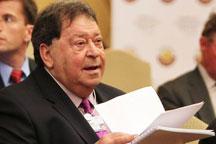 Play Video
Major projects, between Israel and Turkey have been put on-hold this is due to the diplomatic crisis over the Israeli raid on Gaza aid boats.
An Israeli Cabinet Minister, says a second shipment of an unmanned drone aircraft, from Israel to Turkey, has been cancelled. It's all part of a 180 million US dollar military contract.
Benjamin Ben-Eliezer, Israeli Minister of Industry, Trade and Labor, said, "Well, we have to be realistic. I certainly believe that both big projects, I cannot see them continue right now in the near future. But again, I am a great believer that one day will come and relations will get back, then we will renew the dreams and the projects."
Israel has delivered six of the ten Unmanned Aerial Vehicles purchased by Turkey, but the last four will stay in the warehouse for the foreseeable future. Israel's long-time Muslim-ally Turkey has recalled its envoy to Israel and cancelled joint military exercises after Israeli marines raided an aid flotilla bound for Gaza last week.
Editor:Zhang Pengfei |Source: CCTV.com