Watch Video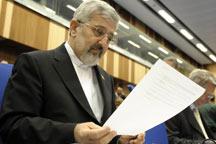 Play Video
Iran has demanded the International Atomic Energy Agency push Israel to join non-proliferation efforts. But, the agency's chief says the issue is not on the agenda.
Iran's envoy to the IAEA says the agency should concentrate its non-proliferation efforts on Israel, which hasn't signed the non-proliferation treaty or NPT.
Ali Asghar Soltanieh, Iranian Ambassador to IAEA, said, "This tremendous pressure should be augmented so that Israel would be bound to international laws and regulations and immediately join the NPT and put all of their nuclear activity under the safeguards of the IAEA."
Arab states will try to add pressure on Israel later this week when the board debates "Israeli nuclear capabilities" at their request.
They want implementation of an IAEA resolution urging Israel to enter the NPT. But, the IAEA chief says the issue isn't on their agenda.
Yukiya Amano, Director-General, Int'l Atomic Energy Agency, said, "What I am expecting regarding Israel is the follow up of the General Conference resolution which was adopted in September 2009 and that is not on the question of the implementation of safeguards agreement or the U.N. Security Council resolution. The nature is different and therefore the report will be different."
The comments follow a month-long U.N. conference in New York to review the NPT which put Israel in the spotlight.
So far, Israel hasn't confirmed or denied having nuclear weapons, but is presumed to have a significant arsenal.
Related stories
Editor:Zhang Pengfei |Source: CCTV.com