Watch Video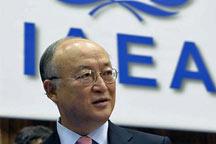 Play Video
The head of the International Atomic Energy Agency, Yukiya Amano, has singled out Iran as a "special case" for his monitoring team.
He says Iran hasn't provided the necessary cooperation that allows the UN agency to confirm that ALL its nuclear materials. are really for peaceful purposes.
His comments came at the start of the UN nuclear watchdog's, 35-nation, Board of Governors meeting, in Vienna.
Yukiya Amano, IAEA Chief, said, "I said in my report that the Iranian nuclear issue is a special one, because with Iran, we have one of the issues with a possible military dimension, which need to be clarified, but which is not clarified yet."
Amano, says a 4th set of UN Security Council sanctions could be passed in the next few days to punish Iran's refusal to freeze uranium enrichment. Iran says it wants to develop the mineral as a nuclear fuel source, but the problem is, the west is worried it will use it to make nuclear warheads. Amano attacked Iran for failing to cooperate with the UN on the issue. Delegates, at the Vienna meeting, will ALSO discuss, ISREAL'S uclear capabilities, this is the first time their nuclear issue has formally come up in 19 years.
Related stories
Editor:Zhang Pengfei |Source: CCTV.com