Watch Video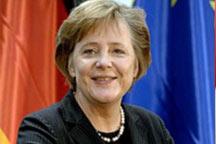 Play Video
German Chancellor Angela Merkel's coalition government has agreed to a package of budget cuts and tax increases. She hopes, this will bring the structural deficit of Europe's biggest economy, within EU limits by 2013 as well as revive her political fortunes.
German Chancellor Angela Merkel announced the new austerity measures at a news conference after a two-day budget meeting.
Angela Merkel, German Chancellor, said, "I can say the past two days were a unique effort. We must save about 80 billion euros by 2014 so that our finances can stand on their own two feet in the future."
According to a draft of the plan, the measures aim to deliver savings of 11.2 billion euros next year and lower a deficit set to exceed 5 percent of GDP this year.
Angela Merkel, German Chancellor, said, "That's how we stabilize the situation. Despite the extremely difficult decision, it is necessary for the future of our country and I regard it as a very serious situation. But, I am optimistic that we can get through the situation if we put this into action now."
The government proposes to save 30 billion euros over the next four years in welfare, mainly from unemployment benefits and slashing thousands of federal government jobs.
The Defense Ministry will also look at cutting 40 thousand jobs in the armed forces.
To increase revenue,the government wants to raise an extra 2.3 billion euros per year by taxing the profits of nuclear power plants and introducing an "environmental" tax on domestic air travel.
Merkel's new government took power in October.
She hopes the package can help restore public faith in her leadership and boost her image among voters.
Editor:Zhang Pengfei |Source: CCTV.com