Watch Video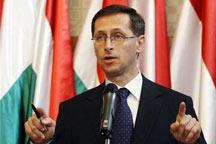 Play Video
The Hungarian government has vowed to cut spending to protect the country from any further economic turmoil. This comes as leaders, try and repair the damage from some officials' comments last week saying the country could face a possible Greece-style debt crisis.
Last week's comments by officials from Hungary's new government rattled already brittle markets around the world due to Europe's sovereign debt risk. They suggested that the deficit could reach 7 to 7.5 percent of GDP and that the country was close to defaulting on its debts.
State Secretary of the Prime Minister's office admits the situation is indeed worse than the previous government made it appear.
Mihaly Varga, State Secretary of the Prime Minister's office, said, "It became clear after the data on the first five months was released that the deficit is bigger than expected and bigger than in any previous years in the same period. The planned incomes did not come in and the expenditures are overshot."
Varga says Hungary would stick to a budget deficit target of 3.8 per cent of GDP and would need to cut spending by one to one and a half per cent of GDP.
The Hungarian government has promised an action plan by early Tuesday at the latest.
Some analysts say markets may soon react positively to the emerging details of the action plan.
Zsolt Kondrat, Analyst, said, "If they stick to the deficit and debt path that was agreed upon and come out with details of the intended measures, the markets will correct fairly soon. Maybe not in the next couple of days, but I'd say in the next few weeks we can expect a fairly big correction."
Most economists say Hungary is in a much stronger position than Greece.
Its deficit and debt ratios to GDP aren't nearly as high. Public debt was about 80 percent last year, compared with 133 percent projected for Greece this year.
Related stories
Editor:Zhang Pengfei |Source: CCTV.com