Watch Video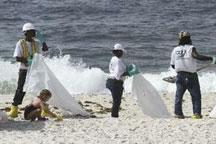 Play Video
The US coast guard says the containment cap that BP has placed over its leaking oil well in the Gulf of Mexico is now collecting about 1.8 million liters of oil a day. That's about one third to three quarters of the oil spewing into the sea.
The amount is slowly being ramped up as more vents on the cap are closed. Crews are moving carefully to avoid a dangerous pressure build-up and to prevent the formation of the icy crystals that thwarted a previous effort to contain the leak.
BP says it plans to replace the cap with a slightly bigger one later this month or early next month.
The second cap would provide a tighter fit and capture more oil. However the leak won't be completely stopped until the drilling of a relief well is finished in August.
Editor:Zhang Pengfei |Source: CCTV.com