Watch Video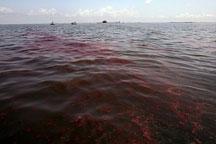 Play Video
As wildlife rescue workers struggle to save thousands of birds coated with sticky oil along the US Gulf coast, experts are warning it may become increasingly difficult to contain the spread of the slick.
They say the oil is constantly moving and blocs of crude have been breaking off and floating in different directions Mike Patterson has the details.
A professor from University of Miami says the current in the spill area keeps moving the oil around in a circle. He says this will continue until the edge of the loop either hits lands or re-connects to the main Gulf loop current.
Nick Shay, Professor, University of Miami, said, "There are blocs that are actually breaking off and going in different directions. We do know that a lot of this is still confined to the northern Gulf of Mexico, and in particular Louisiana and Mississippi and parts in the western panhandle of Florida."
He warns that suction from a hurricane in the Gulf could cause vast underwater plumes of oil to upwell and be pushed ashore.
Small vessels in the area have been enlisted to help using skimmers.
The patchy oil slick has now stained beaches and marshes along more than 160 kilometers of coast from Louisiana to the Florida Panhandle.
An oil sheen on the surface has been spotted as far as 240 kilometers west of Tampa, Florida.
Bobby Jindal, Louisiana Governor, said, "I do not want to see a drop of oil along our coast, but I would much rather fight that oil along hard coastline than have that oil come back into out wetland."
This slick is disastrous for some of the pelicans and other wildlife now drenched in oil.
Workers went to great length to do the time-consuming tasks of cleaning oiled brown pelicans and releasing them back into the wild.
After getting 192 in the last six weeks, 86 were delivered on Sunday, the biggest rescue since the BP rig explosion.
Editor:Zhang Pengfei |Source: CCTV.com