Watch Video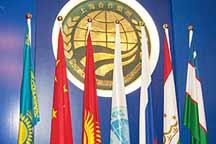 Play Video
President Hu Jintao will also attend the Shanghai Cooperation Organization summit in Tashkent. The SCO was established in 2001. Nine years later, the organization is setting a emerging example for geo-political integration. Here's a look back at the history of the group.
The Shanghai Cooperation Organization grew out of the "Shanghai Five," which was founded in 1996. The original members were China, Russia, Kazakhstan, Kyrgyzstan, and Tajikistan.
On June 15th, 2001, Uzbekistan was invited to join the group, and it was officially renamed the Shanghai Cooperation Organization.
The body aims to improve cooperation between its six members, and deal with new challenges and threats.
SCO member states span a geographical area of more than 30 million square kilometers, about three-fifths of Eastern Asia.
In late 2001, the six countries signed the Shanghai Convention Against Terrorism, Separatism, and Extremism.
On January 15th, 2004, the SCO Secretariat was established in Beijing.
That move was followed by the SCO setting up a Regional Anti-Terrorism Structure in Uzbekistan on June 17th, 2004.
Cooperation among SCO members covers a wide range of areas ... including security, economy, transportation, culture, disaster relief, and law enforcement.
The group has granted official observer status to Mongolia, Pakistan, Iran, and India.
At the Bishkek Summit, held in Kyrgyzstan in 2007, the leaders in attendance inked a good-neighborly cooperation treaty.
Last year, SCO states signed the Yekaterinburg Declaration, along with documents on anti-terrorism, financial cooperation, and Afghanistan.
SCO Members say the organization has matured beyond its early stages, and has entered a new phase of development.
In a short period of time, the SCO has already begun to emerge as an important regional and international player.
Related stories
Editor:Zhang Ning |Source: CCTV.com