Watch Video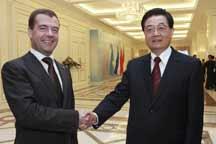 Play Video
Chinese President Hu Jintao has met with his Russian counterpart Dmitri Medvedev, and his Tajik counterpart, Emomali Rakhmon, in Uzbekistan's capital city of Tashkent. The meetings were held on the sidelines of the summit of the Shanghai Cooperation Organization.
This is the third meeting so far this year for Chinese President Hu Jintao and his Russian counterpart Dmitri Medvedev.
President Hu noted there had been all-round progress in China-Russia relations in the first half of this year.
He said the two countries should make good on arrangements for high-level contacts, including Medvedev's visit to China and the regular meeting of prime ministers of the two countries.
He also said the two sides should work to advance cooperation in such areas as trade, economy, energy and local government to lift the level of practical cooperation and achieve more results.
Medvedev spoke highly of current bilateral relations, and called for more cooperation to deepening the strategic partnership between the two countries.