Watch Video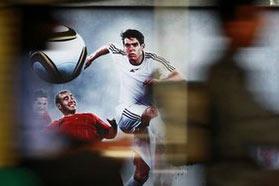 Play Video
Football fever has hit India ahead of the World Cup in South Africa. A huge number of restaurants and bakeries will be showing the games to get in on the action.
Restaurants have been revamped to look like football stadiums while service staff sport different jerseys to give clients a feel of the game.
Pramod Joshi, Restaurant General Manager, said, "We are doing it from last 12 years but in a different manner. This time we have tried to create or you can say from an atmosphere of stadium. So, as you can see around there are about all 32 participating countries flags are there, same way we have created the menu, some dishes are named after the known players, same goes with the drinks as well."
Bakeries are displaying cakes decorated with flags of football playing countries and even popular footballers.
Baker V Rajesh said, "Lots of football fans come from various places to see and buy these cakes. The majority of fans are from Argentina and Brazil, so cakes with their team flags are in high demand."
Owners of these eating establishments are hopeful that this year's World Cup will produce not only a lot of goals, but also sales.
Related stories