Watch Video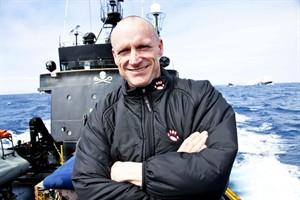 Play Video
Scuffles have broken out outside the Tokyo District court between an anti-whaling activist and a group of Japanese protesters. The two sides clashed ahead of the trial over the case against former Sea Shepherd member Peter Bethune.
Japanese authorities charged Peter Bethune on five accounts earlier this year after he boarded a Japanese whaling vessel. A group of vocal Japanese protesters gathered before the trial, demanding a strict sentencing. The scene outside the court turned violent as police officers were called on to protect Bethune's sole supporter, Gary Thomason, from the protestors.
He said, "I visited Pete twice in prison. I will visit him again tomorrow in prison and just saying 'Pete, support is there for you'."
The 44-year-old Bethune faces five criminal charges including trespassing, obstruction of business, inflicting injuries on a crew and throwing a bottle containing a chemical substance. Japanese media has said that while he denied the charges of inflicting injuries on a crew member, he accepted the others, adding he had "no regrets".
Hideshi Matsumoto, anti-sea shepherd activist, said, "He's committed five crimes and they are thinking Japan won't punish him severely. So we must punish him severely to make them realize."
The protestors are hoping Bethune will get the maximum sentence. Japanese media believe prosecutors may seek to have him face a three-year prison sentence or a fine of up to 11-hundred U.S. dollars. Commercial whaling was banned under a 1986 moratorium, but Japan still hunts whales for what it says are research purposes, while the meat mostly ends up being consumed.
Editor:Zhang Jingya |Source: CCTV.com