Watch Video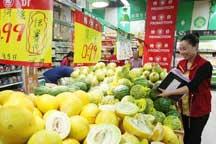 Play Video
The National Bureau of Statistics says China's inflation rate is above the 3 per cent target. But it says it can be controlled at around 3 percent this year with price pressure easing.
The bureau says overall, the economy is maintaining stable and rapid development.
China's Consumer Price Index growth has hit a 19 month high in May, building on 2.8 percent the previous month. But the bureau says there is no reason to panic...as price pressure is expected to ease in the second half.
Sheng Laiyun, Spokesman of NBS, said, "The current CPI growth is structural, and it's partly due to a high comparison with last year. We can see the CPI dropped 0.1% compared to a month ago. And the price pressure sees an easing trend. It's realistic to control the CPI growth at around 3 percent this year."
Meanwhile, the producer price index, grew 7.1 percent in May. According to the bureau, the figure is also expected to drop in the coming months as the European debt crisis brings down commodity prices.
Other key figures released on Friday include industrial output. Its growth slowed, but was still up by 16.5 percent.
Sheng Laiyun, Spokesman of NBS, said, "The industrial growth in May eased a little compared to a month ago, due to China's stronger efforts at industrial restructuring. New high energy consuming projects and highly polluting industries are strictly controlled to save energy and reduce emissions."
The Bureau also says that urban fixed-asset investment continued to grow rapidly, with a 26 percent increase year on year. The property sector saw investment jump by 38 percent. The country's retail sales remain robust, up nearly 19 percent on last year.
Editor:Zhang Pengfei |Source: CCTV.com