Watch Video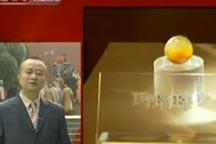 Play Video
2000 years after being introduced to China, Buddhism still plays an important role in shaping Chinese civilization. Today in Nanjing we will witness a welcoming ceremony for Buddha relics. Contained in a silver-coated coffin, the relics are believed to include Buddha's skull and ashes. Now let's talk to our reporter Han Bin at the scene in Nanjing, ready to bring us more details about the event.
Q1:Hello, Han Bin, please tell us the schedule of today's event.
Q2: The opening of the Emperor Asoka Pagoda has attracted wide media attention. Could you tell us the significance of the finding of the relics?
Editor:Zhang Ning |Source: CCTV.com