Watch Video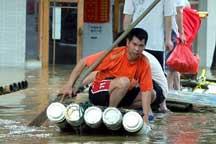 Play Video
Heavy rainstorms continue to pound several provinces in southern China, especially Hunan and Jiangxi provinces and the Guangxi Zhuang Autonomous Region.
Resulting floods in Hunan have left one person dead and two missing. Severe weather in the province has affected 110 towns and more than 400,000 people.
In Jiangxi, 58 counties in the middle and north are suffering the worst rain of the year, and bracing for floods.
Many big rivers in Guangxi have surpassed floods warning levels. Authorities have closed the Lijiang River to crossing.
Heavy rain is expected to continue next week, and expand northward. Rescue work and flood prevention is underway.
Related stories