Watch Video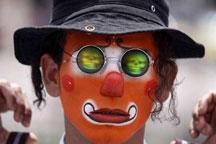 Play Video
Hundreds of clowns have taken to the streets of Mexico City, for the country's 6th annual clown convention. Let's take a look at the colorful dancing and juggling spectacular.
More than 200 clowns whooped it up in Mexico City on Thursday, aiming to gain support and respect for their art.
Sporting big red noses, colorfully painted faces and a variety of wigs and hats, the clowns performed to an audience of all ages.
The convention attracted clowns from different regions of the country. As well as showcasing their talents, they were able to swap ideas and pick up new skills.
Many clowns at the convention said they wanted to help their countrymen take their mind off their problems. Since late 2006, more than 23,000 Mexicans have been killed in drug-related violence.
"Pipucho", Clown, said, "We are feeling a lot of happiness, a lot of enthusiasm from the people. That's what we want to give them, so they can forget about economic problems and violence."
Clowns are an important part of Mexican culture. There are some 10,000 professional clowns working in the country. Many thousands can be seen at traffic intersections around the country, performing tricks
to earn a few pesos. It's a tough life. But the convention is a way to let go and enjoy themselves, and to maintain their high standards, and long tradition of clowning around.
Editor:Zhang Pengfei |Source: CCTV.com