Watch Video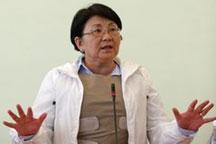 Play Video
Kyrgyzstan's interim leader Roza Otunbayeva has warned the death toll from ethnic riots in the country's south could 10-times higher than originally estimated.
She visited the region on Friday, pledging to allow refugees to return to their homes and lead a normal life.
Landing in the riot-ravaged southern town of Osh, Otunbayeva stressed the importance of restoring law and order to the conflict-torn region.
Roza Otunbayeva, Kyrgyzstan's interim leader, said, "We must strive to restore the city, return all refugees and provide suitable conditions for this process. The ethnic Kyrgyz and Uzbeks people have the goodwill to live in peace and friendship together."
The United Nations estimates 400-thousand people have fled the country's south since the clash broke out. Most of them have crossed into neighboring Uzbekistan.
During her visit to Osh, Otunbayeva warned the actual death toll of the riots could be as high as 2-thousand. The official death toll from the Kyrgyz Health Ministry is 191.
Despite the relative calm in the south and the government's determination, people in the capital Bishkek insist tensions remain high.
Tamara Avalyasova, Bishkek Resident, said, "The general situation is stabilizing, but there is still unrest in Bishkek, Osh, as well as in Jalalabad. We watch TV and know what's going on over there."
To further ease tension, the Kyrgyz interim government has promised to hold constitutional referendum on June 27th and a parliamentary election as soon as possible.
The referendum is seen as a key step to constitutionalize the interim government led by Roza Otunbayeva.
Related stories
Editor:Zhang Pengfei |Source: CCTV.com