Watch Video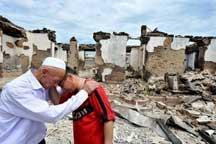 Play Video
After days of violent ethnic clashes in southern Kyrgyzstan, the tense situation has finally calmed down.
When Osh's bazaar re-opened residents rushed there before curfew to get supplies. But smoke is still rising above one of the city's districts.
Kyrgyz troops start clearing roadblocks in Osh which Uzbek residents erected to protect their neighborhoods.
Kolbat Musayev, Deputy Chairman of State Committee on Nat. Security of Kyrgyzstan, said, "Today we are clearing roadblocks leading to Yuzhny district and we have agreement with Uzbek elders to do this. Both the elders and the locals perfectly understand that the confrontation went too far and we have to start returning to normal life."
The continued presence of Uzbek roadblocks has added to simmering tensions between the two communities and slowed the delivery of humanitarian aid from the United States, Russia and other countries.
The government says as many as 2,000 Uzbeks and Kyrgyz may have been killed in several days of ethnic violence last week. The wounded continue to arrive at the Osh city hospital.
Dr. Zait Satbalgiyev, Osh City Hospital, said, "We have chosen badly wounded people, we had to carry out three operations simultaneously. We have done eight complicated surgeries in one day."
Uzbeks and Kyrgyz have blamed each other for starting the conflicts. Uzbeks say the attacks were led by gangs of Kyrgyz youths and have accused Kyrgyz government troops of aiding armed civilians.
Interim leader Roza Otunbayeva has struggled to assert control in the shattered south where Uzbek neighborhoods have barricaded themselves against Kyrgyz parts in a tense standoff.
She said supporters of the ousted President Kurmanbek Bakiyev are trying to destabilize Kyrgyzstan before a referendum on a new constitution on June the 27th.
Editor:Zhang Pengfei |Source: CCTV.com