Watch Video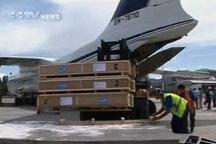 Play Video
UNICEF is delivering 40 tons of medical and sanitation supplies to residents of Osh and Jalalabad. The UN agency says the situation in the two cities remains grave.
Jonathan Veitch, UNICEF Representative in Kyrgyzstan, said, "This is a humanitarian crisis. We haven't done a full needs assessment yet, and this will take some time. Because access to some of the affected populations has been quite difficult. The insecurity has continued in some places, and although it is getting better now, there are some pockets of population that are still scared or have come together and are not allowing people in. "
UN officials say more than one million people have been affected by the violent conflict in Kyrgyzstan. They're in need of food and other aid supplies. Some 400,000 people are left homeless after fleeing ethnic clashes in Osh and Jalalabad that erupted a week ago. 300,000 are displaced within Kyrgyzstan while another 100,000 people have crossed over into Uzbekistan.
Editor:Zhang Pengfei |Source: CCTV.com