Watch Video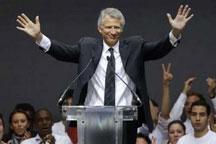 Play Video
French President Nicolas Sarkozy's arch rival Dominique de Villepin has launched a new political party.
The former French Prime Minister has founded the "Republic Solidaire" party in a bid to counter policies of the current government and to campaign in the Presidential election in 2012.
Dominique de Villepin, Former French Prime Minister, said, "We want an independent movement. And not just one more political party, but a movement with a mission, a movement which is for all the French people, particularly those who feel like orphans of the Republic, all the French people who stop voting election after election which includes half of France. All the French who no longer feel represented by the existing political parties and who want to find their role and their place in politics."
Editor:Zhang Pengfei |Source: CCTV.com