Watch Video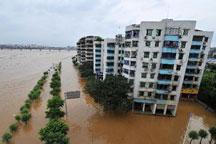 Play Video
Rain-triggered landslides in eastern China have killed at least 46 people over the past week.
The death toll from a landslide in the eastern province of Fujian rose to 36 on Saturday. Five more bodies were recovered from debris in Ninghua County.
Rescuers are still searching for the missing. In neighboring Zhejiang Province, nine people died Friday in two landslides.
As of Saturday morning, downpours that began pounding southern China over the past week had left 88 people dead, 48 missing, and forced the evacuation of hundreds of thousands of residents from their homes.
The Ministry of Civil Affairs says nearly 10 million people in southern and eastern China have been affected by the heavy rains. The State Council has dispatched work teams to the floods-affected areas to guide the disaster relief work.
Related stories