Watch Video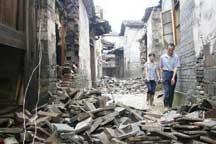 Play Video
Floods have destroyed more than 8,000 houses in Lichuan County of Jiangxi Province. Many of the bridges in the region have also been destroyed. Luckily no casualties have been reported. Meng Lingqi tells us more.
This is the biggest of the three relocation centers in Lichuan. Around 300 villagers have been relocated here.
Heavy rain Friday forced more than 40-thousand people from their homes.
Local Resident, Lichuan County, said, "We didn't have time to prepare. These clothes were given to me by a painter."
Local Resident, Lichuan County, said, "Our house was destroyed! Nothing is left!"
Friday morning, local officials were told by the villagers that the rain was very heavy.
Lou Yonglin, Local Official, said, "Hearing the report, I was very worried. There might be floods and an organized evacuation of villagers and students by whistling and hitting of the gongs."
There are 5 schools in the town of Desheng. After the students were evacuated, several collapsed.
Lou Yonglin, Local Official, said, "It's even frightening to think back. The floods were so fierce, even boats couldn't get in. It would be terrible if a student was washed away."
The schools were destroyed. Villages were ruined. Fortunately no one was hurt.
Quilts, bread, and water have been brought to the relocation centers. Meat and vegetables are being organized to ship to villagers and students.
But the relocation center is not a permanent home for these people. Local governments will have to make plans for the people who lost their homes.
Related stories
Editor:Zhang Pengfei |Source: CCTV.com