Watch Video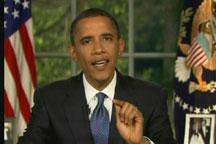 Play Video
U.S. President Barack Obama has slammed the Republicans for thwarting his efforts to boost the economy. He is also urging them to stop playing politics with the nation's future ahead of key November elections.
Barack Obama, U.S. President, said, "What we need in Washington, is a willingness to put the public's interest first - a willingness to score fewer political points so that we can start solving more problems. That's why I was disappointed this week to see a dreary and familiar politics get in the way of our ability to move forward on a series of critical issues that have a direct impact on people's lives."
Senate Republicans defeated a 55 billion US Dollar bill by Democrats to extend jobless benefits and popular tax breaks. They argue it will add too much to the U.S. deficit, projected to hit a record of more than 1.5 trillion US Dollars in fiscal 2010. But the White House wants to boost jobs now.
They see the deficit debate as a way for Republicans to hamper its response to high unemployment and reap rewards in November. Voters may turn on Democrats for failing to create more jobs.
Related stories
Editor:Zhang Pengfei |Source: CCTV.com