Watch Video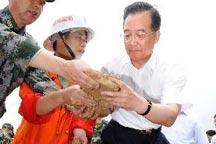 Play Video
Premier Wen jiabao visited flood-stricken Wuzhou city in Guangxi Zhuang Autonomous Region. He urged, the regional government to take anti-flood measures to keep losses to a minimum.
Right upon his arrival in Wuzhou city, Premier Wen began to inspect the flood-stricken areas. He stressed thorough preparation as another round of storms is predicted.
Wen visited flood-hit villages. After seeing that the local government built new houses for the victims, Wen was satisfied and asked the villagers to take good care of themselves before moving to other new houses.
Landslides in Shuangshang village have killed 20 people. On Sunday morning, Premier Wen visited the stationed troops and villagers who were cleaning debris in the village.
Premier Wen Jiabao said, "We lost our loved ones in this disaster. The only way we commemorate them is to build a hometown that is better than before. This will allow them to rest in peace."
Premier Wen also joined the villagers carrying bricks.
During his inspection tour, Premier Wen also held a meeting to guide the relief work. He asked the local government to take effective measures to keep loses to a minimum. The measures include strengthening prediction work, establishing a contingency plan in key areas, and intensifying the efforts of disaster relief.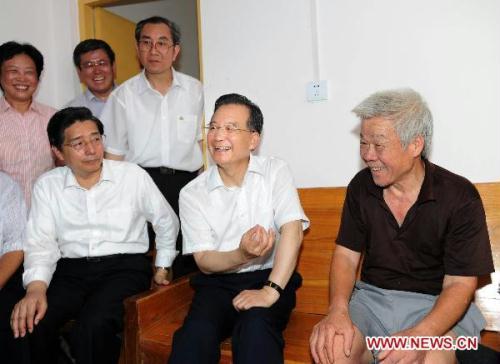 Chinese Premier Wen Jiabao (2nd R) talks with resident Luo Zhixiong during his visit
to Wuzhou City of Guangxi Zhuang Autonomous Region June 19, 2010. Wen Jiabao inspected
flood-affected area in Guangxi from June 19 to 20.(Xinhua/Li Tao)